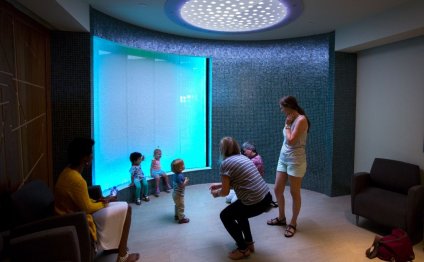 Mental Health Facilities for Children
Child and Adolescent Psychiatry at the Johns Hopkins Hospital - Broadway Campus
Director: Elaine Tierney, M.D.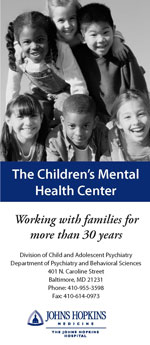 The Johns Hopkins Children's Mental Health Center (CMHC) specializes in the treatment of children and adolescents with behavioral, emotional and psychiatric difficulties. Our patients have the opportunity to participate in individual and/or family-oriented treatment, as well as child/adolescent and parent groups. We offer complete psychiatric and psychosocial evaluations and also assist parents, schools, agencies and other medical specialists in understanding patient needs.
For more information call 410 955-5335 between 9:00am and 3:00pm.
LOCATION:
401 North Caroline Street
Baltimore, Maryland 21231
There is limited, free, on-site parking, or in the Outpatient Center lot or at street meters.
Dialectical Behavior Therapy (DBT) Skills Training
Individual and family therapy focusing on adolescents who engage in self-defeating behaviors. Multi-family group therapy comprised of adolescents and their caregivers participate in group therapy together to learn and practice DBT skills.
Trauma-Focused Cognitive Behavior Therapy (TF-CBT)
Treatment for preschool-age through adolescents who have experienced traumatic events. The caregiver and child work collaboratively to recover from trauma.
Structured Psychotherapy for Adolescents Responding to Chronic Stress (SPARCS)
Trauma-focused group therapy treatment for adolescents ages 12 to 18, which builds on strength and resilience to "show that a little bit of light can drive away a lot of darkness."
Social Skills Group Intervention (S.S. GRIN)
Group therapy for elementary-aged children (kindergarten through fifth grade) to learn and practice basic social skills and develop more appropriate techniques to get along with others and manage stressful social experiences.
Circle of Security
Intended for parents of young children up to age 5. The purpose of the group is to strengthen and promote secure parent-child relationships during this crucial age period. The program teaches parents principles to raise young children in a safe, nurturing, loving and secure environment. Participants' skills are enhanced to promote them to become "good enough parents."
Chicago Parent Program
Group program for parents of children ages 2 to 5 that uses videos and small group discussion to explore parenting strategies.
RealCare, Teen Pregnancy Prevention Program
Group therapy for adolescents that uses realistic infant simulators to offer an experiential approach to explore and discover the emotional, financial, physical and social responsibilities of parenthood.
Referrals
CMHC services are available to preschool-age children up through the age of 18, who reside in the Baltimore Metropolitan area.
Referrals may be made by:
Parents
Physicians
Educators
Social agencies
Courts
Clergy
For new referrals call 410-955-3599 during business hours and ask for the Intake Coordinator.
Payment
The Johns Hopkins Hospital participates with various insurances including Medical Assistance and Johns Hopkins EHP. Our Patient Service Coordinators (PSCs) can assist you in determining your coverage and whether Johns Hopkins participates with your mental/behavioral health plan. Please contact us prior to your visit to ensure that you understand what your plans will cover.
Source: www.hopkinsmedicine.org
RELATED VIDEO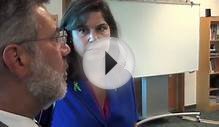 Improving Access to Mental Health Services for Children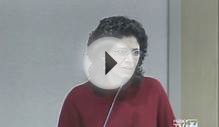 Mental Health Promotion for Children and Adolescents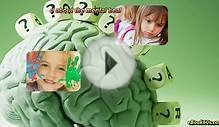 mental health for children
Share this Post
Related posts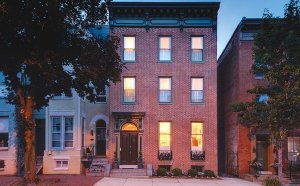 SEPTEMBER 23, 2023
Adult Residential Treatment Centers Adult residential treatment centers in Maryland (MD) offer residential care for adults…
Read More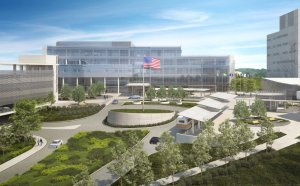 SEPTEMBER 23, 2023
At times, an individual with a mental illness may need psychiatric treatment in a hospital. Hospitalization, often referred…
Read More