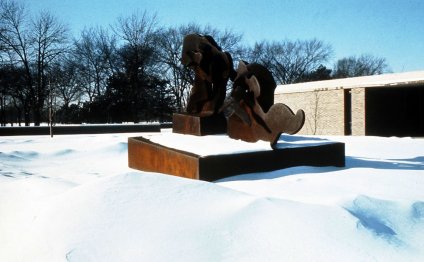 Madden Mental Health Center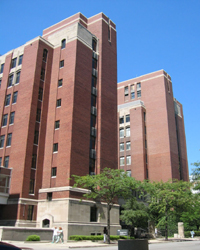 B.University of Illinois at Chicago (UIC) Medical Center Hospital
1740 W. Taylor St., Chicago, IL 60612
Directions: To this Site | From this Site
The Psychiatry Inpatient Unit is located on campus (across the street from the NPI) in the University of Illinois Hospital. The inpatient unit is a modern, 35 bed psychiatric facility. Patients are admitted for moderate or extended lengths of stay, depending on the nature of their illness. There are four inpatient teams: Mood and Anxiety, Psychotic Disorders, Women's Mental Health, and Neuropsychiatry.
C. Institute for Juvenile Research (IJR)
1747 W. Roosevelt Rd., Chicago IL 60612
Directions: To this Site | From this Site
The Institute for Juvenile Research, established in 1909, constitutes the Division of Child and Adolescent Psychiatry for the Department of Psychiatry at UIC.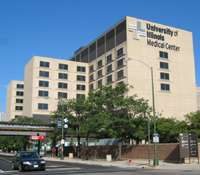 In addition to its important role in the training of medical students and general psychiatry residents, IJR also offers child and adolescent psychiatry fellowship programs. Individual therapy with children and adolescents and an active marital and family therapy program, which serves the community, allows for the training in a variety of professional services. IJR also provides consultation to various schools and neighborhood community agencies. In 2004, the Institute moved to its current location in a modern facility.
D. Veterans Administration (VA) - Jesse Brown Medical Center
820 S. Damen Ave. Chicago, IL 60612
Directions: To this Site | From this Site
The West Side Division of VA Chicago is within walking distance from the UIC College of Medicine campus.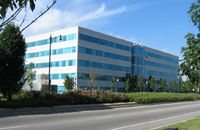 It is a 209-bed facility with integrated residency programs in all disciplines, including psychiatry. A comprehensive range of services is available, including emergency treatment, inpatient and outpatient treatment, consultation/liaison, day hospitalization, and addiction services. There are 40 general psychiatry beds and a 40-bed residential facility linked with outpatient addiction treatment services. There is a day hospital program and an Intensive Psychiatric Community Care program providing outreach services. A large outpatient addiction treatment program offers specialized treatment for alcoholism and includes a methadone clinic. Outpatient mental health services include clinics for geriatric patients, women, chronically mentally ill patients, veterans with posttraumatic stress disorder, and affective disorders.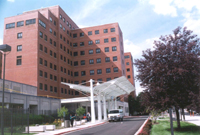 In addition to its important role in the general training of residents, major training opportunities are available at the VA in the areas of primary care psychiatry, substance abuse, and geropsychiatry.
E. MacNeal Hospital
3249 S. Oak Park Ave. Berwyn, IL 60402
Directions: To this Site | From this Site
MacNeal Hospital, located in Berwyn, is approximately 8 miles from UIC, is a 427-bed privately-owned, community teaching hospital. UIC PGY 2 residents rotate on the inpatient psychiatry. The inpatient service consists of four 12-bed units, each with a different focus – geriatric psychiatry, chronic illness, and higher functioning, and acute stabilization. Patients are drawn from the surrounding communities of Berwyn, Cicero, and Oak Forest.
F. John J. Madden Mental Health Center
1200 S. First Ave., Hines, IL 60141
Directions: To this Site | From this Site
Madden MHC is located next to the campus of Loyola University Medical Center and the Hines Veterans Administration Hospital in Maywood, a western suburb of Chicago. As part of the state-wide network of care provided by private and public mental health services, Madden MHC maintains a close link with community providers in the surrounding areas. Services provided include short-term, intermediate-term, and long-term inpatient care for adults, treatment services for adults with mental illness, and specialized services for patients diagnosed as both mentally ill and mentally retarded. UIC residents spend 2 or 3 months on the inpatient psychiatry service during their PGY 2 year and are not assigned call at Madden.
blue green
what does green poop mean
seafoam green
green bay packers score
green dot login
green onion
green new deal
sage green dress
green room
the green solution
the green inferno
go away green
green turtle
nfl green bay packers
kelly green
lime green
aaron rodgers green bay packers
bowling green
emerald green arborvitae
green light
green bay score
green eggs cafe
green top
green crystals
green dot customer service
green pan
green inferno
hunter green
green giant arborvitae
kassius lijah marcil-green
green poop meaning
green bay press gazette
green nails
green bean recipes
tavern on the green
green light card
green egg
green beans recipe
bowling green ky
fried green tomatoes recipe
little green machine
chelsea green
neon green
the green book
green zone
green bean recipe
pastel green
green hell
nfl green bay packers aaron rodgers
sage green wallpaper
green valley ranch
green converse
what does it mean when your poop is green
green bay wisconsin
does green tea have caffeine
green goddess dressing
green acres mall
green crack strain
portable green screen
green solution
green machine
sage green aesthetic
green hair
Source: www.psych.uic.edu
RELATED VIDEO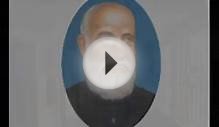 Father Muller Mental Health Centre , Mangalore, India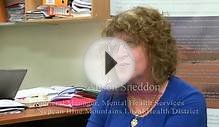 Nepean Mental Health Centre virtual tour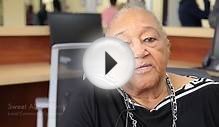 MLK Mental Health Urgent Care Center Ribbon Cutting
Share this Post
Related posts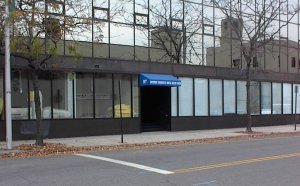 SEPTEMBER 24, 2023
SWCMHS ADMINISTRATIVE OFFICE: 97 Middle Street, Bridgeport, CT 06604 PH: 203-579-7300 Fax: 203-579-6305 COMMUNITY OUTPATIENT…
Read More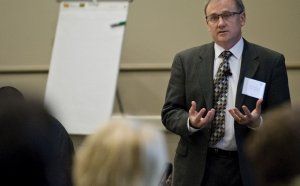 SEPTEMBER 24, 2023
Blue Ridge Counseling Center Dr. Bob Lizer, MD 335 Westside Station Drive Winchester, VA (540) 662-7 Dr. Russell McKelway…
Read More